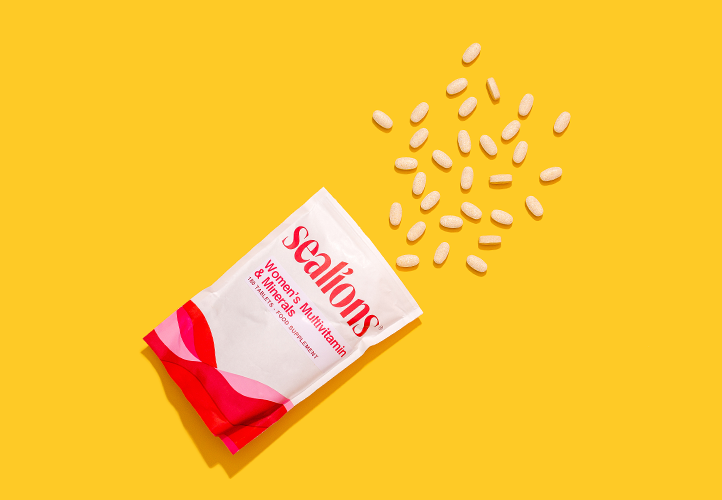 Benefits of Women's Multivitamin
This one-a-day Multivitamin provides women of all ages with the perfect blend of vitamins and minerals your body needs.
Vitamin Sizing Reference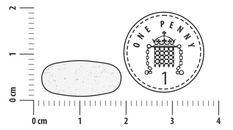 PRODUCT INFORMATION
Specially formulated for female health and wellbeing, this one-a-day multivitamin contains a comprehensive blend of 23 different vitamins and minerals.
Vegetarian Friendly

SUGGESTED USE
Swallow one tablet daily, with food or as advised by your healthcare practitioner. Do not exceed the stated daily intake.
CAUTION
Food supplements should not be used as a substitute for a balanced and varied diet and a healthy lifestyle. Not suitable for children under the age of 12. If pregnant, breastfeeding or on medication, please consult a health professional before use. Discontinue use and seek medical advice if adverse reactions occur. This product contains Iron which, if taken in excess, may be harmful to very young children. This product contains Vitamin A – Do not take if you are pregnant or likely to become pregnant, except on the advice of a doctor or antenatal clinic.
STORAGE
Store in a cool, dry place out of the sight and reach of children. For best before end date, see product.
Calcium Carbonate, Magnesium Oxide, Microcrystalline Cellulose, Ascorbic Acid, Acacia Gum, Ferrous Fumarate, DL-Alpha-Tocopheryl Acetate, Hydroxy Propyl Methyl Cellulose, Nicotinamide, Zinc Oxide, Magnesium Stearate, Calcium Pantothenate, Colours (Calcium Carbonate, Iron Oxides), Manganese Sulphate Monohydrate, Anti-Caking Agent (Silicon Dioxide), Talc, Copper Sulphate Pentahydrate, Humectant (Glycerol), Pyridoxine Hydrochloride, Thiamin Hydrochloride, Riboflavin, Folic Acid, Retinyl Acetate, Chromium Chloride Hexahydrate, Potassium Iodide, Sodium Selenite, Sodium Molybdate Dihydrate, Phytomenadione, Biotin, Cholecalciferol, Cyanocobalamin.
Ladies, are you tired of feeling tired? Do you struggle to stay focused and energised throughout the day? Are you looking for a way to support your overall health and wellness, but not sure where to begin? Look no further than Sealions' high-quality multivitamin designed specifically for women.
What are women's multivitamins?
We know that being a woman is no easy feat. From juggling work and family, to meeting all of our social obligations too, it can feel like there's never enough time just for us, let alone stay on top of our health and wellbeing, making sure we get all the essential nutrients our bodies need from a balanced diet.
With Sealions' women's multivitamin tablets, packed full of the essential vitamins and minerals you need to thrive, we've made it easy for you to feel your best every day.
Unlike generic multivitamins that are designed for everyone, our female-specific formula is tailored to meet the unique nutritional needs of adult women. With key ingredients like iron, calcium, and vitamin D (the sunshine vitamin), our multivitamin will support bone health, boost energy levels, and improve overall well being. Plus, these easy-to-swallow tablets make it a breeze to ensure you get all the nutrients you need on-the-go, no matter how busy your schedule.
So whether you're a busy mum on the go or a career woman climbing the corporate ladder, our high-quality multivitamin provides all the vitamins and minerals your body needs to keep up with your busy lifestyle.
What are multivitamins?
Think of multivitamins like your personal army of nutrients, ready to come to your body's defence and keep you feeling your best. They're a little boost to your daily routine, filling in any nutritional gaps missing from your diet.
Whether you're a fitness enthusiast looking to maximise your workouts, or just someone who wants to make sure you're getting all the essential nutrients your body needs, multivitamins can give you the extra boost you need to stay on top of your game.
Why do women need a dedicated multivitamin?
Women have specific nutritional needs that differ from men, due to factors such as menstruation, pregnancy, and menopause.
For example:
Women require more iron than men
Pregnant women need more folic acid to support foetal development
Postmenopausal women require more calcium to prevent bone loss
According to the NHS, many women in the UK don't get enough of certain vitamins and minerals in their diet. For example, almost 1 in 5 women aged 19 to 64 have low iron levels, and many have low levels of calcium and vitamin D.
Benefits of taking Sealions' vitamin supplements for women
If you're looking for a simple way to boost your health and wellbeing, taking our high-quality daily multivitamin designed specifically for women could be the answer you've been searching for. Check out just a few of the health benefits:
Fill in those nutritional gaps
Sometimes it can be tough to get all the nutrients we need through diet alone. Sealions' well-designed multivitamin provides women with the essential vitamins and minerals they're lacking, helping to support overall health and wellness.
Support your reproductive health
Whether you're trying to conceive or just want to support your menstrual cycle, our multivitamin contains key nutrients like folic acid and iron that are crucial for women during pregnancy and menstruation.
Boost bone health
Did you know that women are more susceptible to bone loss and osteoporosis than men? Sealions' multivitamin for women contains calcium and vitamin D to strengthen bones and prevent bone loss, keeping you feeling strong and healthy.
Boost your immunity
No one has time for a cold or the flu, especially not busy women on-the-go. Our multivitamin contains immune-boosting nutrients like vitamin C, vitamin D, and zinc to keep your immune system strong and ward off pesky bugs and germs.
Maintain normal hair and nails
We all want to look and feel our best, and that includes having luscious locks and strong, healthy nails. Not only does Sealions' multivitamin for women provide a comprehensive range of essential vitamins and minerals for overall health and wellbeing, it also contains key nutrients to maintain healthy hair and normal nails.
It's loaded with biotin, a vitamin B known to support healthy hair growth and prevent brittleness and breakage; zinc, a mineral that is essential for the production of keratin, the protein that makes up your hair and nails; and vitamin E, which improves blood circulation, as well as helping your body better absorb nutrients.
Support normal cognitive function
Our multivitamin contains a range of vitamins and minerals that are essential for optimal brain health, including vitamin B12, which is essential in cognitive function and the formation of healthy red blood cells. It also contains iron, an important mineral that transports oxygen to the brain, and vitamin D, which supports healthy brain function and mood.
It also contains a blend of antioxidants, including vitamin C and vitamin E, which protect the brain from damage caused by free radicals and oxidative stress. Finally, it's packed with omega-3 fatty acids, which are essential for maintaining healthy brain cell membranes and promoting healthy brain function.
How to choose the right multivitamin for women
When choosing a multivitamin, it is important to select one that is tailored to your specific needs. Here are some tips to help you choose the right multivitamin for you:
Look for the essentials
Make sure the multivitamin you choose contains the essential vitamins and minerals your body needs. Sealions' multi vitamin supplements for women are designed to support women's health, and contain vitamin A, vitamin C, vitamin D, vitamin E, vitamin K, thiamin, riboflavin, niacin, vitamin B6, folate, vitamin B12, pantothenic acid, calcium, iron, iodine, magnesium, zinc, selenium, copper, manganese, chromium, and molybdenum.
Consider your age and life stage
As we've mentioned above, different age groups and life stages have different nutritional needs. For example, women who are pregnant or breastfeeding have higher nutrient requirements than women who are not. Older women may require more calcium and vitamin D to prevent bone loss.
Buy the best multivitamins for women from Sealions
Say goodbye to feeling run down and tired, and hello to the energy and vitality you deserve. At Sealions, we're all about making self-care easy, affordable, and tailored to your unique needs as a woman.
Our multivitamins contain a carefully curated blend of 23 essential vitamins and minerals to help women feel their best. From supporting your immune system to promoting healthy hair, skin, and nails, our multivitamin has got you covered.
And the best part? It won't break the bank. Our multivitamins come in a 180-day supply, so you can enjoy 6 months' worth of nourishment for just £5. That's right, just 2.78p per tablet! And because we believe in being kind to your body and the environment, our multivitamins come in compostable packets, making them a sustainable choice you can feel good about.
We know that taking care of yourself can be overwhelming, which is why we've made it our mission to make it as easy and stress-free as possible. So why wait? Shop with us today and start feeling your best, every day. And if you have any questions or need support, our friendly team is always here to help.
We offer four different shipping options for our customers in the UK (mainland only), ranging from Free delivery to next day. 
We do our very best to process and dispatch orders on the same day when placed before 2.30pm Monday-Friday.
Orders placed after this, may not be processed until the following working day (i.e. orders placed after this point on a Friday or over the weekend will be processed on the Monday [excluding Bank Holidays]).
United Kingdom
| Service | Locations | Delivery Schedule | Cost per Order |
| --- | --- | --- | --- |
| Free Standard Delivery (£20 minimum spend) | All of UK | 2-5 days (Mon-Sat, excl Bank Holidays) | FREE |
| Standard Delivery - Royal Mail | All of UK | 2-5 days (Mon-Sat, excl Bank Holidays) | £1.49 |
| Premium Delivery - Royal Mail | All of UK | 1-3 days (Mon-Sat, excl Bank Holidays) | £2.99 |
| Express Delivery - DPD | UK Mainland Only | 1-2 days (excl weekends/Bank Holidays) | £3.99 |
| Express Delivery - DPD | Highlands | 2-3 days (excl weekends/Bank Holidays) | £25.99 |
Full Nutritional Information
Per 1 tablet / %NRV*
*Nutrient Reference Value**No NRV Established
Niacin (B3) 19mg NE / 119%
Pantothenic Acid (B5) 6mg / 100%
Riboflavin (B2) 1.4mg / 100%
Thiamine (B1) 1.1mg / 100%
Vitamin E 18mg α-TE / 150%
Frequently Asked Questions (FAQ)