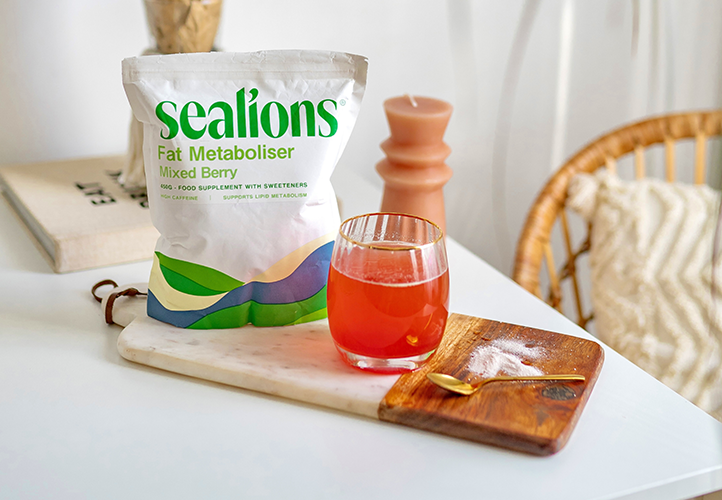 Benefits of Fat Metaboliser
Designed to give you a helping hand in achieving your fat loss goals, our fruity Fat Metaboliser is both delicious and packed with essential nutrients.
Serving size: 1 Scoop (15g)

Serving per pouch: 30

PRODUCT INFORMATION
Do you need a kickstart or helping hand? Our fruity flavoured Fat Metaboliser supports lipid metabolism and is packed with essential B vitamins like B1, B2, B3, B5, B6 and B12 which contribute to normal energy-yielding metabolism and the reduction of tiredness and fatigue.
Our Fat Metaboliser also contains Choline which contributes to normal lipid metabolism and natural antioxidants such as Matcha Green Tea.
SUGGESTED USE
Add 1 scoop (15g) of powder to 150-200ml of cold water. Shake well until mixed and consume. Do not consume more than 1 shake at a time or 2 shakes within a 24-hour period.

Do not exceed the stated daily dose. Food supplements should not be used as a substitute for a balanced and varied diet and a healthy lifestyle. If you have a medical condition or are taking any prescription medications, please consult with your doctor before use.
Vegetarian Friendly

WARNING

This product is high in caffeine (150mg/serving) and is not suitable for children, pregnant or breastfeeding women, or those who are sensitive to caffeine. It is advised not to exceed a total of 400mg of caffeine per day from all sources.
STORAGE 
Store in a cool, dry place. Reseal pouch after each use. For best before end date, see pouch.
Due to the hydroscopic nature of this product, the powder can draw in moisture and may sometimes form into clumps. This does not affect the quality of the product – simply break up the powder and use as normal.  
Mixed Berry Flavour
Maltodextrin, Beta-Alanine, Arginine Alpha-Ketoglutarate (AKG), L-Carnitine, 6-Pack Matrix (Choline Bitartrate, Caffeine Anhydrous, Conjugated Linoleic Acid [CLA], Matcha Green Tea, Black Pepper Extract, Chromium Picolinate), Acids (Citric Acid, Malic Acid), Flavouring, Colour (Beetroot Red), Sweeteners (Sucralose, Acesulfame K), Vitamin B Complex (Nicotinic Acid, D-Calcium Pantothenate, Pyridoxine HCl, Thiamine HCl, Riboflavin, Folic Acid, D-Biotin, Cyanocobalamin)
This amount of Nicotinic Acid may cause skin flushes in sensitive individuals.
Unveiling the Benefits of Fat Metaboliser Drinks for Your Health Journey
In the quest for achieving a healthier and fitter lifestyle, many individuals turn to various products to support their efforts. One such product gaining popularity is the 'Fat Metaboliser' drink.
These beverages are designed to aid in the body's natural fat-burning processes, making weight management and overall health goals more attainable. In this article, we will explore the numerous benefits of incorporating fat metaboliser drinks into your daily routine.
Fat Metabolisers Help to Boost Metabolism
The primary benefit of fat metaboliser drinks lies in their ability to boost metabolism. These drinks are typically enriched with key ingredients like green tea extract, caffeine, and certain plant compounds, which can stimulate the body's metabolic rate.
By increasing metabolism, the body can burn calories more efficiently, even when at rest, thereby promoting weight loss and supporting overall fat reduction goals.
Enhances Energy Levels
Fat metaboliser drinks often contain natural stimulants like caffeine that can provide an energy boost. Unlike artificial energy drinks, these beverages offer a healthier alternative to stay alert and active throughout the day.
The increased energy levels can translate into improved workout performance, encouraging you to engage in more physical activities and burn additional calories.
Fat Metabolisers Are Great for Appetite Control
One of the most challenging aspects of weight management is controlling appetite and curbing unnecessary cravings. Fat metaboliser drinks often contain appetite-suppressing ingredients like fibre and protein, which help you feel full for longer periods.
By reducing the desire to overeat, these drinks support a more controlled and balanced diet, ultimately leading to a more successful weight loss journey.
Fat Metabolisers Can Support Hydration
Proper hydration is essential for overall health and fitness. Fat metaboliser drinks, often infused with vitamins and minerals, offer a convenient way to stay hydrated while providing additional health benefits.
Proper hydration is crucial for efficient metabolic functions, aiding in digestion, nutrient absorption, and waste elimination.
Fat Metabolisers Are Antioxidant Rich
Several fat metaboliser drinks are fortified with antioxidants, which play a crucial role in neutralizing harmful free radicals in the body. These antioxidants protect the body's cells from damage, reduce inflammation, and support overall well-being.
Conclusion:
Incorporating fat metaboliser drinks into your daily routine can provide a range of benefits that complement your health and fitness journey. From boosting metabolism and energy levels to promoting thermogenesis and appetite control, these beverages offer a natural and effective way to support weight management goals.
However, it's essential to remember that fat metaboliser drinks are not a magic solution for weight loss. They work best when combined with a balanced diet, regular exercise, and a healthy lifestyle.
As with any dietary supplement, consult with a healthcare professional before adding fat metaboliser drinks to your routine to ensure they align with your individual health needs and goals.
We offer four different shipping options for our customers in the UK (mainland only), ranging from Free delivery to next day. 
We do our very best to process and dispatch orders on the same day when placed before 2.30pm Monday-Friday.
Orders placed after this, may not be processed until the following working day (i.e. orders placed after this point on a Friday or over the weekend will be processed on the Monday [excluding Bank Holidays]).
United Kingdom
| Service | Locations | Delivery Schedule | Cost per Order |
| --- | --- | --- | --- |
| Free Standard Delivery (£20 minimum spend) | All of UK | 2-5 days (Mon-Sat, excl Bank Holidays) | FREE |
| Standard Delivery - Royal Mail | All of UK | 2-5 days (Mon-Sat, excl Bank Holidays) | £1.49 |
| Premium Delivery - Royal Mail | All of UK | 1-3 days (Mon-Sat, excl Bank Holidays) | £2.99 |
| Express Delivery - DPD | UK Mainland Only | 1-2 days (excl weekends/Bank Holidays) | £3.99 |
| Express Delivery - DPD | Highlands | 2-3 days (excl weekends/Bank Holidays) | £25.99 |
Full Nutritional Information
Per 15g Serving / NRV*
*Nutrient Reference Value**No NRV Established
Black Pepper Extract 5mg / **
Carbohydrate (sugars) 0.8g
Matcha Green Tea 50mg / **
Niacin (B3) 16mg NE / 100%
Pantothenic Acid (B5) 6mg / 100%
Riboflavin (B2) 1.4g / 100%
Thiamine (B1) 1.1mg / 100%
Frequently Asked Questions (FAQ)