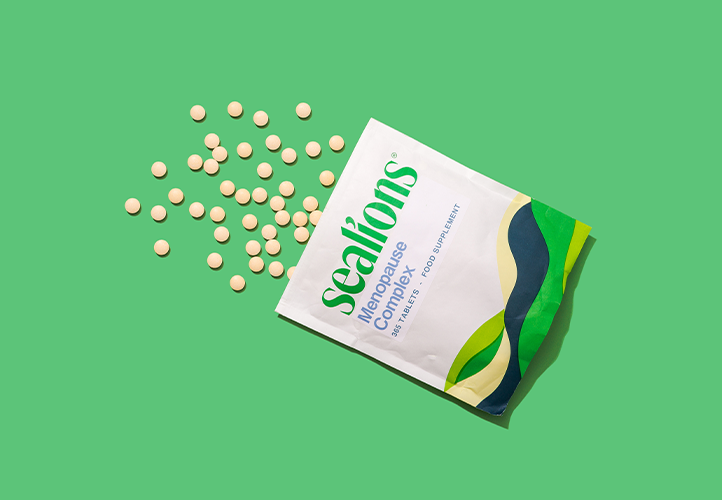 Benefits of Menopause Complex
Support your body through the menopause with our Menopause Complex - an expert formulation of essential vitamins and minerals to help restore balance.
Vitamin Sizing Reference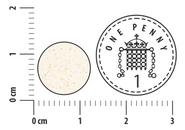 PRODUCT INFORMATION:
Our Menopause Complex provides daily support during the menopause and supports hormonal balance with our expert formulation of vitamins and minerals.

Vitamin B6 contributes to the regulation of hormonal activity. Vitamin B12 contributes to the reduction of tiredness and fatigue. Calcium is needed for the maintenance of normal bones.
Vegetarian Friendly
SUGGESTED USE:
Swallow one tablet daily, with food or as advised by your healthcare practitioner. Do not exceed the stated daily intake. 
CAUTION:
Food supplements should not be used as a substitute for a balanced and varied diet and a healthy lifestyle. If pregnant, breastfeeding or on medication, please consult a health professional before use. Discontinue use and seek medical advice if adverse reactions occur.
STORAGE:
Store in a cool, dry place out of the sight and reach of children. For best before end date, see product.
Calcium Carbonate, Bulking Agent (Microcrystalline Cellulose), Maltodextrin, Ascorbic Acid, Soya lsoflavones, Zinc Citrate, DL- Alpha Tocopheryl Acetate, Anti-Caking Agents (Magnesium Stearate, Silicon Dioxide), Nicotinamide, Calcium Pantothenate, Pyridoxine HCI, Riboflavin, Retinyl Acetate, Sodium Selenite, Biotin, Cholecalciferol, Cyanocobalamin
Allergens
Please see ingredients listed in bold.
Menopause Complex
A daily dose of our powerful food supplement can help you navigate menopause symptoms with ease
Menopause is a natural process that women go through at some point in their lives, and the changes it brings can be challenging to deal with. From hormonal issues to physiological and even psychological changes, going through menopause can seem like an uphill struggle.
Adding a specially formulated menopause supplement to your daily routine can help balance your hormones and reduce unwanted side effects.
Our Menopause Complex is a convenient way to give your mind and body the support they need. At just £8.00 for a year's supply, Sealions gives you unparalleled affordability without compromising on quality.
Combat menopause symptoms with our daily supplement
Menopause can be a tricky period of your life to navigate, with a range of side effects that can result in mood swings, depression, and excessive tiredness.
When adverse reactions occur, our Menopause Complex supplement contains essential vitamins and minerals that tackle the symptoms head-on and help you continue with everyday life.
We only use the highest quality ingredients and balance them perfectly in this powerful supplement so you can reap the benefits and enjoy a happier lifestyle.
Healthy bones and teeth
Going through menopause stages can compromise bone health, as decreasing oestrogen levels can speed up bone loss, resulting in an increased risk of osteoporosis.
Research by the Endocrine Society highlights that one in ten women over 60 experience osteoporosis, but our supplement contains ingredients that promote bone health.
Containing optimal doses of calcium carbonate and zinc citrate, the supplement promotes normal bones through tissue renewal and reduces the risk of osteoporosis in later life.
Boost your energy
One of the worst side effects menopause brings about is a lack of energy, tiredness and fatigue. These menopausal symptoms can last for years, but our supplement balances hormonal activity and gives you a daily boost.
Pyridoxine (Vitamin B6), cyanocobalamin (Vitamin B12) are powerful food supplements that promote energy-yielding metabolism. The Menopause Complex also contains a healthy dose of zinc to boost energy levels.
Hormonal balance & normal psychological function
During menopause, hormonal activity changes, and the imbalance can cause various symptoms, including hot flashes, night sweats, mood swings and insomnia.
Our supplement contains cholecalciferol (Vitamin D), DL-Alpha Tocopheryl (Vitamin E) and Vitamin B6 to promote normal psychological function, regulate hormonal activity and reduce body temperature. The addition of soy isoflavones can also reduce hot flushes.
Hair and skin health
Numerous studies have shown the effects of menopause on the skin and hair (T&F Online), but a daily dose of our supplement can boost hair growth by facilitating the normal function of cell growth.
Biotin is instrumental in promoting healthy hair, while retinyl acetate (Vitamin A) gives your skin a healthy dose of goodness.
Cognitive function
Many women experience brain fog when they go through menopause stages, which can result in depression and an ability to enjoy a healthy lifestyle.
With a powerful combination of B vitamins, our supplement can reduce tiredness and brain fog, making you feel more positive and maintain mobility.
Why choose Sealions for vitamins, minerals and food supplements?
Consuming a balanced diet that incorporates all of the recommended vitamins and minerals can be challenging for many people, and that's why taking a daily food supplement can offer a host of benefits.
However, many supplement providers put large price tags on their supplements and don't have a customer-first mentality. Sealions is different because we're here to disrupt the industry and prove anyone can access high-quality supplements without spending a fortune.
Save money, sacrifice nothing
We source the finest ingredients for all of our supplements and refuse to compromise on quality. How do we manage to offer huge savings? Well, we lower our margins so you can benefit from the best Menopause Complex supplement without worrying about your bank balance.
Vitamins for every life stage
Our many specially formulated supplements can help you and your family through every life stage. From folic acid supplements during pregnancy to formulations for very young children, seniors and even pets, shopping with us gives your family healthy growth, a better immune system, and a happier lifestyle.
Boost your health and protect the environment
Single-use plastic is one of the biggest environmental threats, and many supplement providers use packaging that negatively impacts it. We're different because all of our supplements come with fully compostable or fully recyclable packaging that prevents pollution and contributes to a greener planet.
Shop the Menopause Complex supplement today
The Menopause Complex supplement is formulated to deliver a range of mod and health-boosting benefits. However, you should still consume a varied diet and get plenty of direct sunlight through being outdoors.
If you're under medical supervision for pre-existing conditions, we recommend you ask your healthcare practitioner before taking the supplement.
Our friendly team is always available to advise you on our Menopause Complex supplement or answer any questions, so please don't hesitate to contact us.
We offer four different shipping options for our customers in the UK (mainland only), ranging from Free delivery to next day. 
We do our very best to process and dispatch orders on the same day when placed before 2.30pm Monday-Friday.
Orders placed after this, may not be processed until the following working day (i.e. orders placed after this point on a Friday or over the weekend will be processed on the Monday [excluding Bank Holidays]).
United Kingdom
| Service | Locations | Delivery Schedule | Cost per Order |
| --- | --- | --- | --- |
| Free Standard Delivery (£20 minimum spend) | All of UK | 2-5 days (Mon-Sat, excl Bank Holidays) | FREE |
| Standard Delivery - Royal Mail | All of UK | 2-5 days (Mon-Sat, excl Bank Holidays) | £1.49 |
| Premium Delivery - Royal Mail | All of UK | 1-3 days (Mon-Sat, excl Bank Holidays) | £2.99 |
| Express Delivery - DPD | UK Mainland Only | 1-2 days (excl weekends/Bank Holidays) | £3.99 |
| Express Delivery - DPD | Highlands | 2-3 days (excl weekends/Bank Holidays) | £25.99 |
Full Nutritional Information
Per 1 tablet / %RI*
*Reference Intake**No RI Established
Pantothenic Acid (B5) 6mg / 100%
Riboflavin (B2) 1.4mg / 100%
Frequently Asked Questions (FAQ)