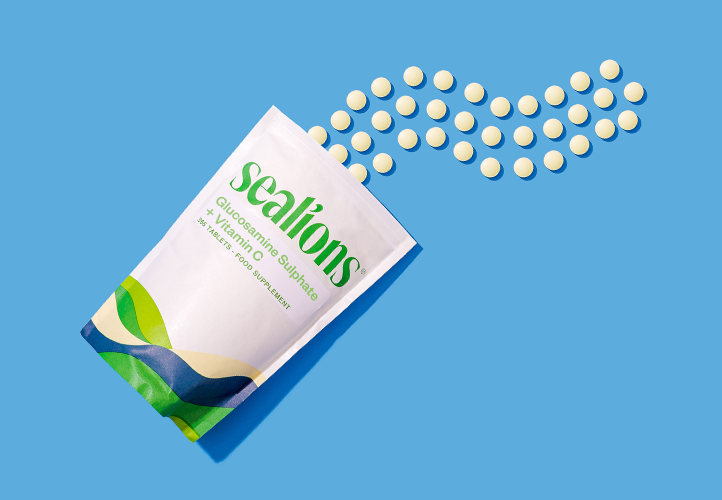 Benefits of Glucosamine Sulphate
Natural support designed to complement active lifestyles. Our formula provides 395mg of Glucosamine per one-a-day tablet.
Vitamin Sizing Reference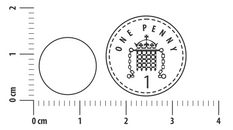 PRODUCT INFORMATION
A high quality marine source of Glucosamine Sulphate for active individuals providing 395mg of Glucosamine per one-a-day tablet, along with 12mg of vitamin C.
Vitamin C contributes to normal collagen formation for the normal function of skin, teeth, gums, bones and cartilage, and also supports immunity, energy and vitality.
ALLERGENS
Please see ingredients listed in bold.
SUGGESTED USE
Swallow one tablet daily, with food or as advised by your healthcare practitioner. Do not exceed the stated daily intake.
CAUTION
Food supplements should not be used as a substitute for a balanced and varied diet and a healthy lifestyle. Not suitable for children under the age of 12. If pregnant, breastfeeding or on medication, please consult a health professional before use. Discontinue use and seek medical advice if adverse reactions occur. This product is not suitable for vegetarians.
STORAGE
Store in a cool, dry place out of the sight and reach of children. For best before end date, see product.
Glucosamine Sulphate Dipotassium Chloride (Crustacean Shellfish), Microcrystalline Cellulose, Acacia Gum, Polyvinylpyrrolidone, Ascorbic Acid, Hydroxypropyl Methyl Cellulose, Magnesium Stearate, Anti-Caking Agent (Silicon Dioxide), Talc, Humectant (Glycerol).
Glucosamine Sulphate and Vitamin C Tablets 500mg
Glucosamine Sulphate is a powerful supplement renowned for maintaining healthy and flexible joints. Introducing Glucosamine with Vitamin C to your daily intake can have numerous positive effects and keep you feeling healthy.
Sourcing high-quality vitamins and minerals that don't break the bank shouldn't be hard, and with Sealions, it's not. Our Glucosamine Sulphate supplements are suitable for all ages and cost just £5.00 for a 180-day supply.
With zero plastic and marine-sourced ingredients, you can trust Sealions to help you live your best life.
What are Glucosamine Sulphate supplements?
Glucosamine is a naturally occurring substance that stimulates the creation of essential chemicals to build ligaments, cartilage, tendons, and fluid that cushions and protects joints.
While most of us don't need supplemental glucosamine early in our life, as we age and our joints weaken, taking a glucosamine supplement can reduce pain and enhance flexibility.
Glucosamine supplements are building blocks for glycosaminoglycans, which are components of cartilage. Regular supplements give your body the necessary materials to facilitate cartilage repair and growth.
Why add Vitamin C?
Vitamin C (ascorbic acid) is a powerful antioxidant that ensures normal collagen formation and protects the joints from oxidative stress. When you take Vitamin C with Glucosamine Sulphate, the antioxidant will improve how your body absorbs glucosamine and help your joints reap the rewards.
The benefits of Glucosamine Sulphate + Vitamin C Supplements:
Joint Health Enhancement: These supplements can boost joint health and achieve normal function by promoting mobility and flexibility.
Cartilage Support: Cartilage repair and maintenance are central to better mobility, and glucosamine sulphate supplements can boost low levels of the substance in your body.
Pain Management: Glucosamine sulphate can reduce joint pain and discomfort, making daily activities more manageable.
Osteoarthritis Relief: Some studies suggest these supplements could relieve pain in individuals with osteoarthritis, a degenerative joint condition.
Collagen Production: Glucosamine and vitamin C play significant roles in normal collagen formation, boosting hair, skin and nail health.
Why choose Sealions Glucosamine Sulphate supplements?
There are numerous forms of glucosamine, but Glucosamine Sulphate Dipotassium Chloride is the most studied form and, therefore, a safe option.
Taking one tablet daily will contribute to joint relief, but following a healthy lifestyle, varied diet and regular exercise can help in reducing the symptoms of osteoarthritis.
Choosing us also gives you:
Cost-Effective Supplements: We lower our margins so you can save money without sacrificing quality.
Environmentally-Conscious Packaging: In most cases, a traditional daily supplement will come in single-use plastic bottles or similar - we offer 100% compostable or 100% recyclable packaging on all of our pouches.
Vitamins For Everyone: Our vitamins can support the health of your whole family, with various formulations for various ages and needs.
Buy Glucosamine Sulphate Vitamin C supplements today
We offer four different shipping options for our customers in the UK (mainland only), ranging from Free delivery to next day. 
We do our very best to process and dispatch orders on the same day when placed before 2.30pm Monday-Friday.
Orders placed after this, may not be processed until the following working day (i.e. orders placed after this point on a Friday or over the weekend will be processed on the Monday [excluding Bank Holidays]).
United Kingdom
| Service | Locations | Delivery Schedule | Cost per Order |
| --- | --- | --- | --- |
| Free Standard Delivery (£20 minimum spend) | All of UK | 2-5 days (Mon-Sat, excl Bank Holidays) | FREE |
| Standard Delivery - Royal Mail | All of UK | 2-5 days (Mon-Sat, excl Bank Holidays) | £1.49 |
| Premium Delivery - Royal Mail | All of UK | 1-3 days (Mon-Sat, excl Bank Holidays) | £2.99 |
| Express Delivery - DPD | UK Mainland Only | 1-2 days (excl weekends/Bank Holidays) | £3.99 |
| Express Delivery - DPD | Highlands | 2-3 days (excl weekends/Bank Holidays) | £25.99 |
Full Nutritional Information
Per 1 tablet / %NRV*
*Nutrient Reference Value**No NRV Established
Glucosamine Sulphate 500mg / **
Providing Glucosamine 395mg / **
Frequently Asked Questions (FAQ)