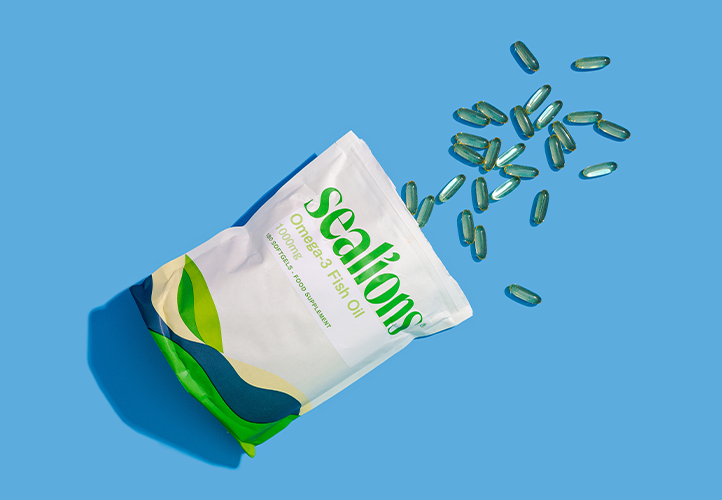 Benefits of Omega-3 Fish Oil
Vital in supporting healthy brain and heart functions, Omega-3 Fish Oil is a must in your daily supplements line-up.
Vitamin Sizing Reference
PRODUCT INFORMATION
Each one-a-day Omega-3 Fish Oil softgel contains 180mg of Eicosapentaenoic Acid (EPA), and 120mg Docosahexaenoic Acid (DHA).
EPA and DHA contribute to the normal function of the heart.
Please note, this product contains a fishy odour.
ALLERGENS
Please see ingredients in bold.
SUGGESTED USE
Swallow one softgel capsule daily, with food or as advised by your healthcare practitioner. Do not exceed the stated daily intake.
CAUTION
Food supplements should not be used as a substitute for a balanced and varied diet and a healthy lifestyle. Not suitable for children under the age of 12. If pregnant, breastfeeding or on medication, please consult a health professional before use. Discontinue use and seek medical advice if adverse reactions occur. This product is not suitable for vegetarians.
STORAGE
Store in a cool, dry place out of the sight and reach of children. For best before end date, see pouch. 
Fish Oil (18% EPA, 12% DHA), Capsule Shell (Gelatin, Glycerin, Purified Water), Antioxidant (Mixed Tocopherols)

Allergens
Please see ingredients in bold.
Contains essential fatty acids that are vital for good health, heart, brain and vision
When it comes to health and wellness, Omega-3 Fish Oil supplements give your body a healthy dose of vital substances that you might not get through diet alone. Our specially formulated capsules pack a powerful punch and help your body function better.
At just £7.00 for a 120-day supply, you can prioritise your health and wellbeing without sacrificing quality. Sealion isn't your typical supplement provider; we're on a mission to make top-quality vitamins, minerals and dietary supplements more accessible.
What are Omega-3 fatty acids?
Omega-3 Acids are essential for the human body, but we're not able to produce them naturally. Omega 3 fatty acids can be found in fatty fish such as trout, salmon and mackerel. There are three main types of fatty acids, including:
Alpha-Linolenic Acid (ALA)
Docosahexaenoic Acid (DHA)
Eicosapentaenoic Acid (EPA)
Each has a significant role in promoting health and wellbeing along with supporting various bodily functions, including brain and heart health.
As many of us don't get our recommended Omega-3 intake through diet alone, supplements can provide adequate quantities for your body to thrive.
Our Omega-3 Fish Oil supplements contain EPA and DHA, giving you a convenient way to consume essential nutrients without eating large volumes of fish.
The benefits of using Omega-3 supplements
Adding an Omega-3 fish oil 1000mg supplement to your daily intake can positively affect your bodily functions and boost your overall health. The benefits associated with our soft gel capsules include:
Heart health
Many people believe these supplements can improve your overall health and reduce the risks of heart disease by lowering triglyceride levels and contributing to normal blood pressure.
While there's not much evidence to prove this, a recent study published by Harvard Health Publishing shows some positive effects of Omega-3 on heart health.
Brain function
One of the key types of Omega-3 is DHA, which plays a significant role in brain development. DHA contributes to normal brain function, and regular fish consumption, chia seeds and flax seeds can boost your levels.
However, food supplements can help you enhance blood flow to the brain and boost the production of neurotransmitters. A review from PubMed Central also explores how Omega-3 can support memory and even inhibit neuron death.
Anti-inflammatory properties
Omega-3s have anti-inflammatory effects that can alleviate symptoms of conditions like arthritis and reduce overall inflammation. The main reason is that supplements help your body develop Omega-3-metabolites, which can halt inflammatory responses.
While there's no concrete research yet, researchers are beginning to explore the positive effects of Omega-3 on conditions like rheumatoid arthritis.
Eye health
The retina should contain high concentrations of DHA, but they can suffer macular degeneration as people age. Taking Omega-3 fish oils could protect your vision and keep your eyes healthy for longer. However, our omega 3 supplements aren't just for older people; they also promote eye health in infants.
A European study showed that people who eat a varied diet with lots of fish have fewer risks of developing age-related eye conditions.
Why buy Omega-3 supplements from Sealions?
Consuming a well-rounded diet is central to a healthy lifestyle, but the cost of fish can often mean people fail to meet their daily intake recommendations. Supplements can be a great alternative because they contribute to normal bodily functioning, and - as a bonus -you don't have to consume foods you hate.
Unfortunately, many vitamin and supplement providers introduce hefty prices and fail to take their ethical responsibilities seriously. Enter Sealions. Here's what we do differently.
Our customers get the best deals
Paying £30 or above for essential supplements puts you out of pocket and means you have to choose the most important for your health. Sealions is different because we make our products affordable and great value for money.
Yes, you'll save a lot of cash, but don't worry about quality. We use high-strength pure fish oil from reputable sources and lower our margins to offer the best possible deals.
We're environmentally conscious
Unfortunately, many supplement providers use single-use plastic packaging. Not only are you paying high prices, but there's also a significant environmental cost. Our Omega-3 Fish Oil supplements - and all of our other supplements - come with 100% compostable packaging, or 100% recyclable packaging.
Our no-nonsense policy on eco-friendly packaging means you get to enjoy our 1000mg capsules while also knowing they have a beneficial effect on the environment.
Supplements for everyone
What's better than buying cost-effective supplements for yourself? Treating the whole family to a healthy dose of goodness. We create specialist formulas for all genders, ages and family members of the furry kind.
With excellent prices on our entire range, shopping with us gives the whole family the supplements they need to thrive.
Buy Omega-3 1000mg capsules today
We offer four different shipping options for our customers in the UK (mainland only), ranging from Free delivery to next day. 
We do our very best to process and dispatch orders on the same day when placed before 2.30pm Monday-Friday.
Orders placed after this, may not be processed until the following working day (i.e. orders placed after this point on a Friday or over the weekend will be processed on the Monday [excluding Bank Holidays]).
United Kingdom
| Service | Locations | Delivery Schedule | Cost per Order |
| --- | --- | --- | --- |
| Free Standard Delivery (£20 minimum spend) | All of UK | 2-5 days (Mon-Sat, excl Bank Holidays) | FREE |
| Standard Delivery - Royal Mail | All of UK | 2-5 days (Mon-Sat, excl Bank Holidays) | £1.49 |
| Premium Delivery - Royal Mail | All of UK | 1-3 days (Mon-Sat, excl Bank Holidays) | £2.99 |
| Express Delivery - DPD | UK Mainland Only | 1-2 days (excl weekends/Bank Holidays) | £3.99 |
| Express Delivery - DPD | Highlands | 2-3 days (excl weekends/Bank Holidays) | £25.99 |
Full Nutritional Information
Per 1 softgel / %NRV*
*Nutrient Reference Value**No NRV Established
Docosahexaenoic Acid (DHA) 120mg / **
Eicosapentaenoic Acid (EPA) 180mg / **
Frequently Asked Questions (FAQ)