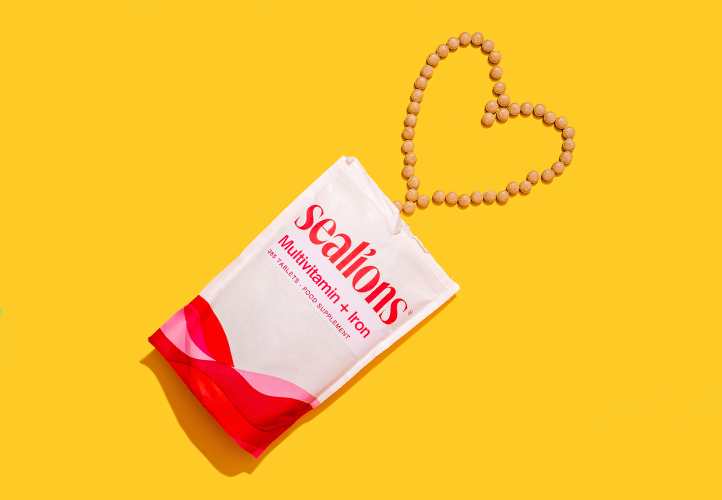 Benefits of Multivitamin with Iron
Multivitamin + Iron has an expert combination of 12 vitamins and minerals with iron designed to support you in everyday life.
Vitamin Sizing Reference
Prioritise your health with our iron supplements from Sealions
Vitamins and health go hand in hand, with many people turning to supplements for their daily recommended intake of the good stuff. One of the most important minerals anyone can add to their diet is iron.
Not only does it facilitate growth and development, but it's also instrumental for energy production and your immune system.
Our supplements pack a powerful punch of vitamins and vital mineral iron. Now, nothing will hold you back from being your best self every single day.
PRODUCT INFORMATION
This expertly created one-a-day tablet formula combines 12 essential vitamins with iron to support overall health and wellbeing.
Iron contributes to the reduction of tiredness and fatigue.
This product is suitable for men and women of all ages, and has particular benefits for vegetarians, menstruating women, athletes or those on a reduced-calorie diet.
Vegetarian Friendly
SUGGESTED USE
Swallow one tablet daily, with food or as advised by your healthcare practitioner. Do not exceed the stated daily intake.
CAUTION
Food supplements should not be used as a substitute for a balanced and varied diet and a healthy lifestyle. Not suitable for children under the age of 12. If pregnant, breastfeeding or on medication, please consult a health professional before use. Discontinue use and seek medical advice if adverse reactions occur. This product contains Iron which, if taken in excess, may be harmful to very young children. This product contains Vitamin A – Do not take if you are pregnant or likely to become pregnant, except on the advice of a doctor or antenatal clinic.
STORAGE
Store in a cool, dry place out of the sight and reach of children. For best before end date, see product.
Bulking Agents (Calcium Carbonate, Microcrystalline Cellulose), Ascorbic Acid, Ferrous Fumarate, DL-Alpha Tocopheryl Acetate, Nicotinamide, Modified Maize Starch, Calcium Pantothenate, Anti-Caking Agents (Magnesium Stearate, Silicon Dioxide), Pyridoxine HCl, Thiamine HCl, Riboflavin, Retinyl Acetate, Folic Acid, Biotin, Cholecalciferol, Cyanocobalamin
The Benefits of Multivitamins and Iron
Multivitamins and iron offer extra support for numerous functions; our unique blend has an expert combination of 12 vitamins and minerals with iron. Taking a regular supplement will provide multiple benefits
Oxygen Transport
Iron's primary purpose is to carry oxygen throughout the body. It's a key component of haemoglobin, a protein found in red blood cells that bind to oxygen in the lungs and deliver it to the tissues and organs.
By ensuring proper cell oxygenation, iron supports the body and boosts the functioning of your cells.
Energy Production
Iron is renowned for its ability to metabolise energy and help you harness it. If your iron levels are low, you might feel lethargic and be unable to perform general exercise. Multivitamins, iron and other minerals can boost your energy levels and help you get through the day.
Red Blood Cell Formation
Without enough iron, the body cannot produce an adequate number of healthy red blood cells, leading to iron-deficiency anaemia. Symptoms of anaemia include fatigue, weakness, pale skin, and shortness of breath.
Immune Function
Iron is vital in supporting a healthy immune system, ensuring the cells function properly and can defend the body against viruses and infections. If you don't get enough iron, you might get sick quickly because your body can't fight properly.
Cognitive Function
Sufficient iron levels are necessary for optimal cognitive function. Inadequate iron levels may contribute to cognitive impairments, including difficulties with concentration, memory, and learning.
Muscle Function
Iron is essential for muscle health and function. As a component of myoglobin, it's instrumental in storing and transporting oxygen within muscle cells. Adequate iron levels support muscle performance, endurance, and overall physical strength.
We offer four different shipping options for our customers in the UK (mainland only), ranging from Free delivery to next day. 
We do our very best to process and dispatch orders on the same day when placed before 2.30pm Monday-Friday.
Orders placed after this, may not be processed until the following working day (i.e. orders placed after this point on a Friday or over the weekend will be processed on the Monday [excluding Bank Holidays]).
United Kingdom
| Service | Locations | Delivery Schedule | Cost per Order |
| --- | --- | --- | --- |
| Free Standard Delivery (£20 minimum spend) | All of UK | 2-5 days (Mon-Sat, excl Bank Holidays) | FREE |
| Standard Delivery - Royal Mail | All of UK | 2-5 days (Mon-Sat, excl Bank Holidays) | £1.49 |
| Premium Delivery - Royal Mail | All of UK | 1-3 days (Mon-Sat, excl Bank Holidays) | £2.99 |
| Express Delivery - DPD | UK Mainland Only | 1-2 days (excl weekends/Bank Holidays) | £3.99 |
| Express Delivery - DPD | Highlands | 2-3 days (excl weekends/Bank Holidays) | £25.99 |
Full Nutritional Information
Per 1 tablet / %NRV*
*Nutrient Reference Value**No NRV Established
Niacin (B3) 16mg NE / 100%
Pantothenic Acid (B5) 4mg / 67%
Riboflavin (B2) 1.4mg / 100%
Thiamine (B1) 1.1mg / 100%
Vitamin E 12mg α-TE / 100%
Frequently Asked Questions (FAQ)